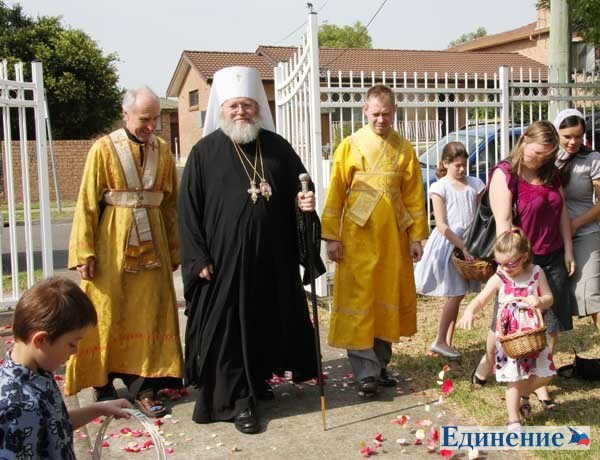 On Sunday, November 22, 2009, the Parish commemorated the 50th anniversary of the founding of the Church of Saint Archangel Michael Blacktown.
In 1959, fifty Russian families living in the neighbourhoods of Saint Marys, Blacktown, Mount Druitt and Penrith decided to build their own church. The recent immigrants at that time were not wealthy, but brick by brick they built their temple and along with it, built their community, and their future parish.
On the day of the 50th anniversary, priests and parishioners from throughout Sydney's churches gathered for Divine Liturgy. A group of worshipers from the Cathedral in Strathfield arrived by bus, and visitors even came from other cities. The fact that His Eminence Metropolitan Hilarion, who flew in from New York, officiated at the service imparted a special ceremony to the event. Vladyka was joined in the service by Priest David Lloyd, who was then Rector of Archangel Michael Church, as well as Priest Alexander Filchakov, who recently came to the Australian Diocese from Moscow, Priest George Robinson of Queanbeyan and Priest Seraphim Slade.
The choir, headed by Andrei Laptev, made the divine service especially ceremonious. Mr Skornyakov, the Warden, and the parish sisterhood did a great deal to decorate the church for the holiday.
Despite the heat, which reached 41 degrees (106 degrees Fahrenheit), the church was filled with worshipers.
After Divine Liturgy and a procession of the cross, everyone was invited to partake of the trapeza luncheon held at the Social Athletic Club in Camp's Creek.
St Vladimir Parish Children's Choir gave a performance under the direction of E. Metlenko.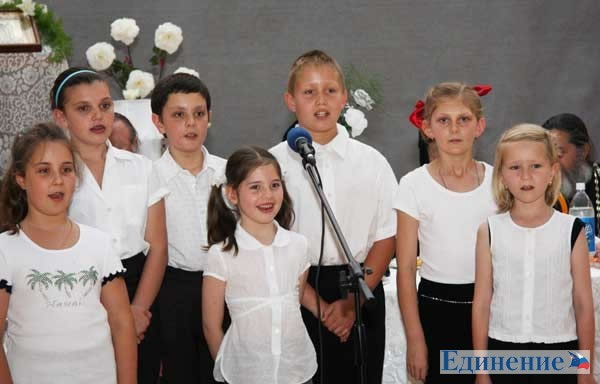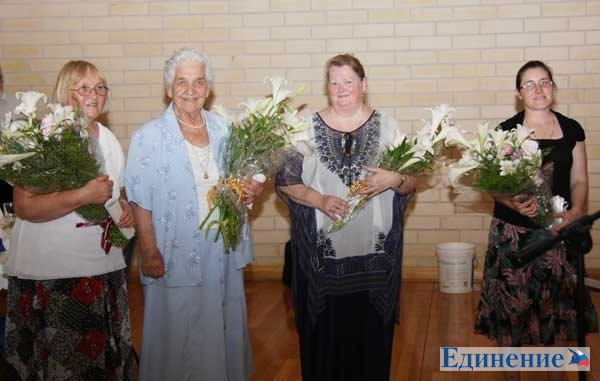 The parish sisterhood, which was aided by volunteers from Protection Church in Cabramatta, the Cathedral and other churches, sisterhood hosted a meal for 400 people. Honoured guests at the event included Laurie Ferguson, Parliamentary Secretary for Multicultural Affairs and Settlement Services, and government representatives Gavin McCann and David ChildrensChoirWilson. Vice Mayor of Blacktown Stephen Bali and Julie Griffith represented the municipality. The honoured guests congratulated the parish and emphasized the importance of the Russian diaspora in Australia in its development. Prof. Marie Bashir, Governor of New South Wales, also sent a greeting.
Fr David thanked everyone who participated in the celebrations and who helped prepare for the luncheon. Gramatas and flowers were given to NN Baich and other long-time parishioners who actively participated in the life of the community. Senior Sister V. Smolonogova thanked G. Nikitenko, T. Lester, K. and O. Tonkikh, S. Boikova, N. Shornikova, D. Cherkas, R. Saushkina, I. and V. Khadarin, M. Chipizubova, S. Zheludeva, V. Sadovoi, A. Semenova and Fr David.
The Parish with the assistance of the Unification Russian Language Newspaper produced an 8-page newspaper supplement for distribution and inclusion in local newspapers.